Riders receive sponsorship and donation from Mather Jamie
07/08/2015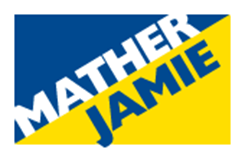 The leading basketball team, which is gearing up to move into a newly built arena in Leicester early next year, will feature the chartered surveyor's logo on their playing shorts.
Mather Jamie also recently organised a charity golf day, attended by Leicester Riders' Head Coach Rob Paternostro and player Tyler Bernardini, which raised £550 in support of the club's Riders Foundation, a community program which does work in schools.
Russell Levenston, Managing Director of Leicester Riders, said: "We are delighted to be working with the directors and all the staff at Mather Jamie to further develop the awareness of the Leicester Riders and we thank them for their much valued support."
Martin Ward of Mather Jamie, said, "We are thrilled to extend our support to Leicester Riders for two more years; our staff really enjoy the engagement and regularly attend their fixtures and we wish the club well for the forthcoming season."
Established in 1991 and based in the East Midlands, Mather Jamie Chartered Surveyors is an independent mixed commercial and agricultural practice with a long established and unrivalled reputation for delivering reliable advice and expertise on residential and commercial developments. For more information please telephone 01509 233433 or visit www.matherjamie.co.uk.