Peer-to-peer experts ThinCats find purr-fect property for expansion
15/08/2016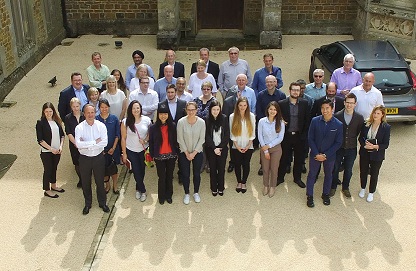 ThinCats, Europe's largest P2P platform specialising in secured loans to small to medium enterprises (SMEs), is moving from its former offices north of Tamworth to a two storey office building at Charter Point, in Ashby de la Zouch, as part of its plans to rapidly expand.
The firm, which also has an office in London, is making the 5,952ft building its administrative head office due to the large overheads in renting property in the capital. It brings a team of 19 employees to Leicestershire.
Alex Reid, Director of Mather Jamie, said; "These large modern office units on Charter Point Way, which were previously occupied by TNT Express Shipping, were put on the market in April of this year and within three months we had found new tenants in ThinCats."
Kevin Caley, Chairman and founder of ThinCats, said; "I started the business from home in 2010 at the height of the financial crisis, and after two years we had five employees, working from a small office in Tamworth. It was sufficient at the time, but by last year that team had trebled, and by the end of 2016 we expect to employ 25 people at our administrative centre.
"I named the company ThinCats as a reaction to the term 'Fat Cat' bankers; I wanted it to act like 'an eBay for business loans', which would let private investors bid on loans and lenders decide on their interest rate. By cutting out the banks, both borrowers and lenders get a better deal."
Lenders on ThinCats.com bid a minimum of £1,000 on loans and set the interest rate they want to receive, ranging from 7% to 15% per annum. The lowest bids needed to make up the loan are selected by ThinCats.com and each successful lender receives what they bid.
ThinCats then manages the investment process and collects and distributes the monthly repayments of interest and capital. Typically, lenders can earn 9% interest on the loans made, and over the past five years ThinCats has arranged more than £185 million worth of secured loans.
Kevin, 65, who has lived in Ashby and Osgathorpe for 25 years, continued; "We needed somewhere bigger, more prestigious and easier to get to, and Charter Point stood out as the ideal place. All our main competitors are based in London, and our major venture capital investors were keen that we move there because they thought that the talent we needed could only be found in London.
"However, office costs in London are at least four times greater than they are here, and we've found a team of highly experienced people in the local area, and although it's useful to have a London office to deal with national media and regulations it makes good economic sense to base the key administrative functions here in Leicestershire."
"We have ambitious growth plans and plan to double in size again within the next year. This is an exciting time for ThinCats, and Ashby de la Zouch is the perfect spot for us to be based."
Alex Reid continued; "ThinCats is a forward-thinking web-based loans company that has decided to relocate and grow in Leicestershire, due primarily to this area's low overheads compared to London, where most similar firms are based. Their move shows the increasing confidence new businesses have in this region."
For details of commercial property and rural land opportunities in Leicestershire, and elsewhere in the East Midlands, please call Alex Reid at Mather Jamie on 01509 233433. For more information about ThinCats, visit www.thincats.com