New offices in rural setting available near East Midlands Airport
08/09/2016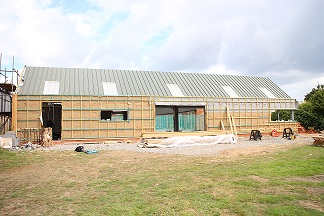 South Acre, at The Walnut Yard, which is due to be completed later this autumn, is situated on the Langley Priory Estate in a tranquil rural setting, with unrivalled links to Leicester, Derby and Nottingham, plus J24 of the M1 motorway and J14 of the A42 towards Birmingham.
This modern, single storey 1,450ft2 new build features open eaves to a vaulted ceiling, an air source heat pump, high quality aluminium double glazed doors and windows, wood cladding, tiled flooring and under-floor heating, plus a bespoke kitchen and parking for 15 cars. The completed building will also feature fibre optic broadband, and will have a south facing terrace with views over picturesque meadows.
Tim Wagstaff, owner of the property, says; "The new office building at South Acre is the final part of the Walnut Yard courtyard and will complement the existing office buildings there. It is part of a wider diversification of the estate, and income from tenants will be put towards the upkeep of Langley Priory, one of the oldest, most important buildings in the county."
Alex Reid, director of Mather Jamie, says; "These new premises at South Acre near Diseworth offer terrific, up-to-date office accommodation for businesses with beautiful views, plus great access to the East and West Midlands' major cities and East Midlands Airport. Companies looking to set up in modern, spacious, airy accommodation should contact us as soon as possible to avoid disappointment."
Alex Reid continued; "Rural land owners are increasingly seeing the benefits of diversifying their properties for business and residential use, and we at Mather Jamie can offer expert advice as to the best use of your portfolio."
For details of the offices, plus other commercial property opportunities in Leicestershire, Derbyshire and elsewhere in the East Midlands, please call Alex Reid at Mather Jamie on 01509 233433.
Established in 1991 and based in the East Midlands, Mather Jamie Chartered Surveyors is an independent mixed commercial and agricultural practice with a long established and unrivalled reputation for delivering reliable advice and expertise on residential and commercial developments. For more information please telephone 01509 233433 or visit www.matherjamie.co.uk.