New Lubbesthorpe development scoops prize for infrastructure
20/11/2018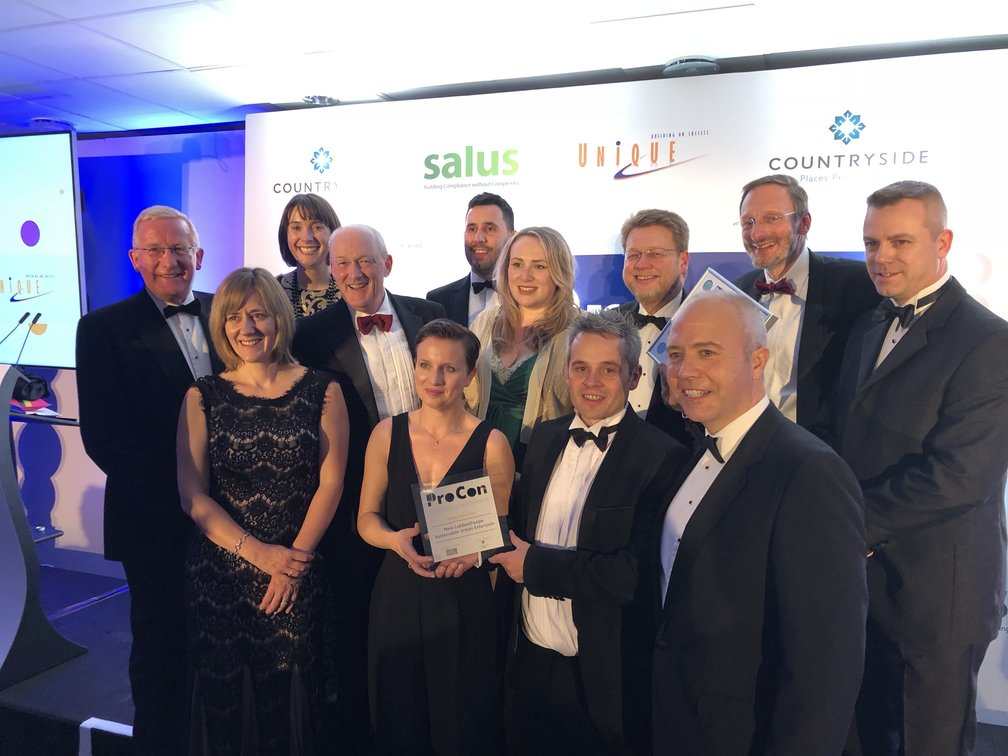 A popular housing development years in the planning on the outskirts of Leicester has won a prestigious construction award for its well-managed, ongoing infrastructure schemes.
New Lubbesthorpe, an ambitious urban extension which has been years in the planning, was nominated by East Midlands agents Mather Jamie for the Infrastructure Prize in the 2018 ProCon Leicestershire property and construction awards, which were announced at a special dinner at Leicester's King Power Stadium on Thursday 15th November.
As part of the planning, a new road, including a road bridge spanning the M1, has been built linking Meridian Way to Beggars Lane. Other infrastructure at the site includes a sustainable urban drainage scheme including ponds, public open space, and pumping stations for a foul drainage system.
The development saw off competition from other local infrastructure projects including a footbridge on Charter Street and a sustainable drainage solution (SUDS) at Birkett House School. The awards are the county's biggest celebration of the built environment and the people who develop, design and construct winning developments.
Mather Jamie has been working with Blaby District Council and developers on behalf of the landowners, the Drummond family, to help bring New Lubbethorpe sustainable urban development, which once complete will have 4,250 new homes, from concept to reality.
Mather Jamie's Director, Martin Ward, said; "The delivery and success of New Lubbesthorpe is principally down to the determination of the Drummond Estate and Blaby District Council to create a place to live, work, enjoy, connect and learn. The spirit of the collaboration between the private and public stakeholders has enabled the scheme to be kick-started."
New homes are currently available at New Lubbesthorpe from Barratt Homes, David Wilson Homes and Davidsons Homes. For more information about the development, please visit www.newlubbesthorpe.co.uk.
For more information about the ProCon Awards, visit: www.procon-leicestershire.co.uk. For details of rural land opportunities and other residential land opportunities, please contact Martin Ward on 01509 233433 or visit the Mather Jamie website www.matherjamie.co.uk.