Mather Jamie announces promotions for two chartered surveyors
27/05/2016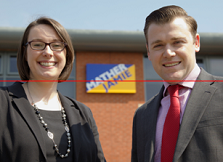 Gary Kirk and Amy Biddell both joined the Loughborough-based Chartered Surveyors in 2010, following graduation from Harper Adams University.
The promotions are part of the firm's expansion plans for 2016, and their respective teams are now set to grow, with new staff expected to be brought on board in the coming months.
Gary Kirk, 28, from Melton Mowbray, currently manages a number of rural estates throughout the Midlands, while developing a specialism in residential development land agency, having been involved in a large number of development land transactions on an array of sites on behalf of corporate clients and private families since starting with the firm.
He said, "I feel very fortunate and am grateful to Mather Jamie for helping me progress to where I am today and I look forward to helping to grow the firm, whilst continuing to offer the practical, hands-on approach to property advice for which Mather Jamie is known".
Amy Biddell, 30, from Tamworth, has been involved in a range of projects and land deals on behalf of clients in addition to managing several varied rural estates since joining the firm.
She said, "I thoroughly enjoy every aspect of my role at Mather Jamie and the strong relationship that we have with our clients and I am excited to be part of the future of this firm.
The firm celebrated its 25th anniversary in February, and announced its offices and workforce would be expanding, following record revenues last year.
For details of rural land opportunities in Leicestershire, and elsewhere in the East Midlands, please contact either Amy or Gary on 01509 233433.
Established in 1991 and based in the East Midlands, Mather Jamie Chartered Surveyors is an independent mixed commercial and agricultural practice with a long established and unrivalled reputation for delivering reliable advice and expertise on residential and commercial developments. For more information please telephone 01509 233433 or visit www.matherjamie.co.uk.