Leicester Rider becomes driver of new company car
28/09/2017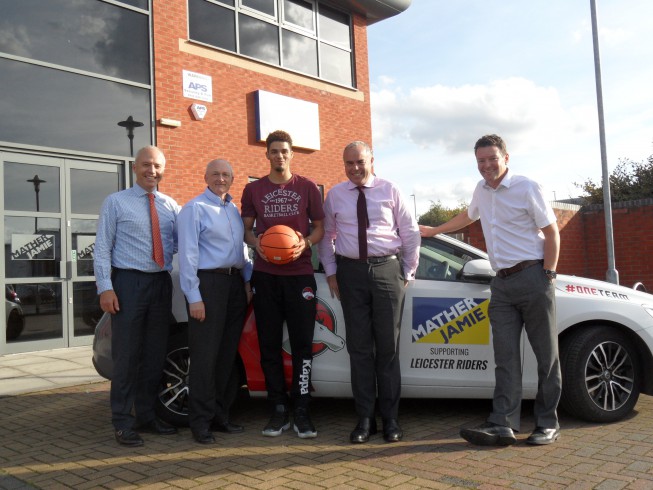 Kiefer Douse receives his new Volvo from the Directors of Mather Jamie, outside the firm's office in Loughborough.

Kiefer Douse, joined the Leicester Riders basketball team in August 2017 and received the new Volvo V40 T2 Momentum, complete with distinctive Leicester Riders branding, as part of Mather Jamie's continuing sponsorship of the Leicester Riders.

Keifer who was born and raised in Toronto, Canada, joined the Leicester Riders in August 2017 after graduating from Canisius College in Buffalo, New York with a Bachelor of Science degree in Business Marketing and Management.

Throughout his university experience in the USA, Kiefer served as team captain for Canisius College Men's NCAA Division 1 basketball team. He commented: "Basketball has given me the privilege of travelling throughout North America competing, visiting new places and meeting new people."

Kiefer's immediate family, including his two brothers Kris & Kirk and his sister Kastille, reside in Toronto but he also has strong ties to England as his father was born in Derby and his close family and friends live in the Greater London area.

As well as playing for Leicester Riders, Kiefer is also studying for a Masters degree in International Management at Loughborough University.

Kiefer said: "I am excited to continue travelling the world and playing basketball at a professional level in Leicester with the Riders who have won the British Basketball League for the last two seasons and last year won the League Trophy and Play off Final."

Martin Ward, Director of Mather Jamie, said, "We're very happy to continue our support for the Leicester Riders, and our support for Kiefer in the early stages of his career, by providing this new car for him."

Established in 1991 and based in the East Midlands, Mather Jamie Chartered Surveyors is an independent development, commercial and rural surveying business with a long established and unrivalled reputation for delivering professional, reliable advice and expertise on major residential and commercial development schemes.

For more information please telephone 01509 233433 or visit www.matherjamie.co.uk.