Landowners across Leicestershire are showing increasing interest in creating solar farms according to Mather Jamie
07/11/2013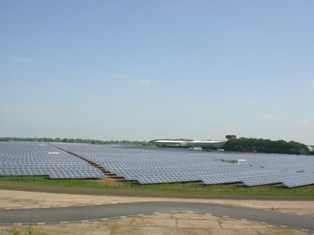 The rural, commercial and development specialist says it has received a large number of enquiries from potential new clients who are looking to reap the rewards of high returns offered by installing photovoltaic panels.

The increasing interest in eco investments comes after Mather Jamie helped to create the country's largest solar farm by installing 130,000 photovoltaic panels on 150 acres of land at the Prestwold Estate in Wymeswold.

Hugh Platt of Mather Jamie comments: "We are currently seeing an upturn in interest from various landowners seeking professional advice following the successful installation of the solar farm at Wymeswold – a project worth £35 million. "Installing photovoltaic panels is a particularly attractive investment for those with redundant or non-productive land as a non-intrusive form of renewable energy, compared to wind turbines. "As it also offers a secure investment opportunity with a guaranteed income, it is one that more and more landowners are beginning to consider.

"People are really starting to see the potential returns they can expect and are now contacting us to find out more, particularly landowners who are looking to diversify and create a viable new income stream." "Our role encompasses everything from identifying the best land for such a project to negotiating the best possible option and lease terms on behalf of clients. "With vast experience in this type of work, we are able to secure great returns and are now offering advice to a number of potential new clients."

The Solar Trade Association estimates that solar power was responsible for generating 2% of the UK's electricity needs on July 23rd, compared to just 1.3% from wind turbines.
Find out more by contacting Hugh Platt on 01509 233433 or email hugh.platt@matherjamie.co.uk.

Established in 1991 and based in the East Midlands, Mather Jamie Chartered Surveyors is an independent mixed commercial and agricultural practice with a long established and unrivalled reputation for delivering reliable advice and expertise on residential and commercial developments. For more information please telephone 01509 233433 or visit www.matherjamie.co.uk.