Innovative on-demand bus service launches in Leicester
10/05/2019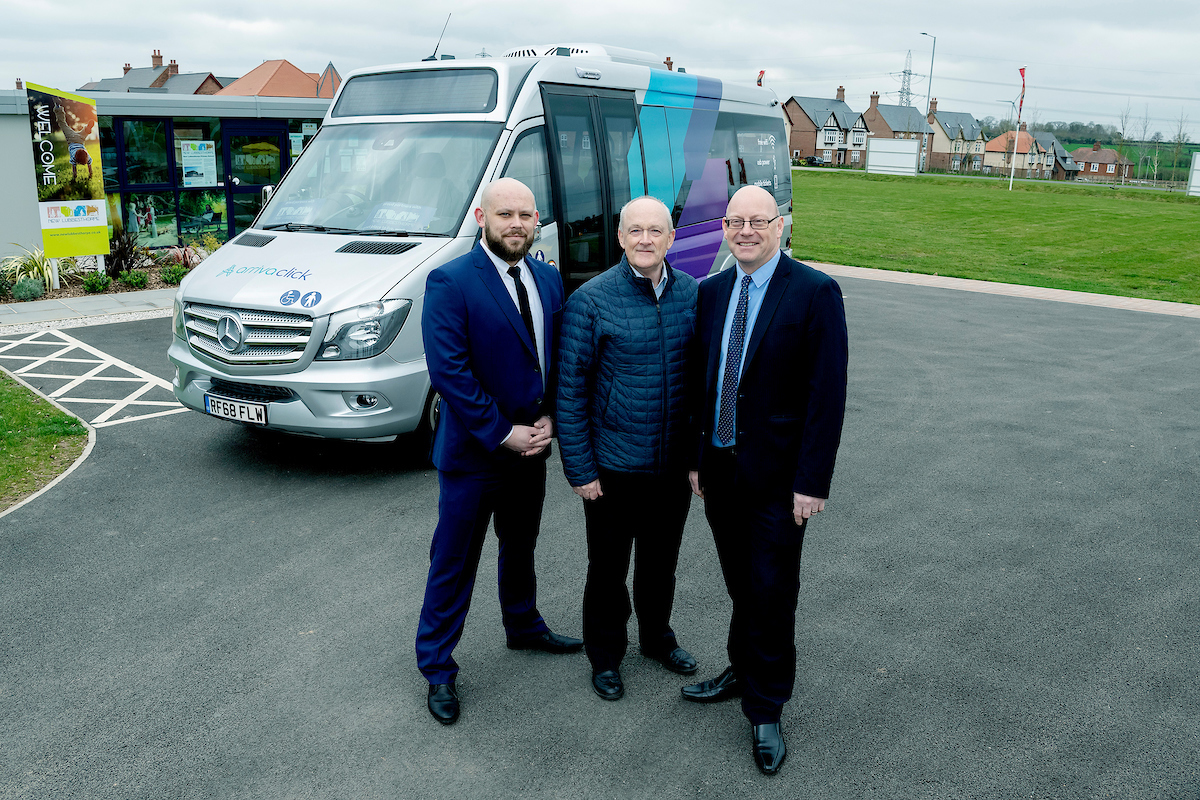 Already up and running in Kent and Liverpool, ArrivaClick is a digital booking service which became available to New Lubbesthorpe's growing numbers of residents on 29th April. Using the ArrivaClick smartphone app, residents will be able to request a place on a 15-seater minibus, following which their booking will be matched with others travelling in the same direction.
Destinations include Leicester city centre, the city's University campuses, Leicester and Narborough railway stations, Leicester Royal Infirmary, Fosse Park and Grove Park, Meridian Business Park, Meridian Leisure Park, the Leicester Tigers and Leicester City FC grounds and Morningside Arena, home to the Leicester Riders basketball team.
This marks the first ever instance in the UK of Section 106 funding being used for a Demand Responsive Transport (DRT) service.
The concept of New Lubbesthorpe was initiated by the Drummond Estate, who worked with Blaby District Council and Leicestershire County Council to create plans for a sustainable new community. Mather Jamie has been working with local authorities and developers on behalf of the Drummond Estate for over 10 years to help bring the urban development, which once complete will feature 4,250 new homes, to fruition.
Situated between Leicester Forest East and Enderby, New Lubbesthorpe is located 20 minutes from Leicester city centre and is within easy reach of supermarkets, leisure centres and local shops, as well as Meridian Leisure Park and Fosse Retail Park. Thousands of new jobs are also being created, with a new business area at Leicester Commercial Park and a business village near the new M1 bridge. Two primary schools, one open for intake from September 2019, and a secondary school will also be built, and the community will also deliver 325 acres of woodland and green spaces.
Martin Ward, Director at Mather Jamie and spokesperson for the Drummond Estate, said: "This exciting and vibrant urban development is delivering a new place to live, work and learn, and it is important we provide sustainable transport options.
"This is just one of the initiatives we are delivering at New Lubbesthorpe to provide attractive and viable alternatives to car use assisted by Go Travel Solutions who are advising Mather Jamie on travel planning matters. An 'on-call' service, ArrivaClick provides a high quality, easy and flexible solution to meet local travel needs and is one of the reasons New Lubbesthorpe is such a pioneering development."
Paul Hickinbottom, General Manager at Arriva, said: "ArrivaClick offers a bespoke service that is tailored specifically to customers' needs, prioritising punctuality of service, frequency and flexibility. It delivers on the unique and individual requirements of each customer, providing a truly holistic approach to meeting their transport needs.
"By working alongside the Drummond Estate, Mather Jamie and Go Travel Solutions with our partners at Blaby District Council, Leicestershire County Council and Leicester City Council to bring ArrivaClick to Leicestershire, we are demonstrating a combined dedication to putting the customer's needs first, whilst seeking to increase our county's sustainability and environmental credentials."
New homes are currently available at New Lubbesthorpe from Barratt Homes, David Wilson Homes and Davidsons Homes. For more information about the development, please call Martin Ward on 01509 233 433 or visit