Four new Loughborough businesses in two months through Mather Jamie
13/01/2016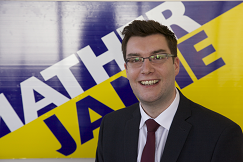 Half-Shake & Bake on Baxter Gate, L Lee Salon on Ashby Square, Bright Ideas on Church Gate and Red River Western Collectibles on Nottingham Road have all opened in the last two months, resulting in six full and part time new jobs between them.
Stephen Hopper, owner of American diner Half-Shake & Bake said: "I've always loved American food, and thought that with the new multiplex nearby there was a gap in the market for the type of food we make – warm moist cookies and malt milkshakes, imported straight from the USA.
"I've taken on two staff to help me, and we should be taking on more, including local apprentices, as the business becomes more established."
Sarah Neale, Manager of Bright Ideas Gift Shop, said: "Our first shop in Melton Mowbray has been a real success, and we've always wanted to open a shop in my home town of Loughborough. This unit was the right size and location, and we've already had plenty of interest in our exclusive candle and home fragrance products."
James Hunt, Commercial Management Surveyor at Mather Jamie, said, "These four recently set-up businesses in Loughborough show that the retail market is strengthening in town, and we have plenty similar potential retail properties on our books for people looking to set up their own business here."
For details of similar property opportunities please contact James Hunt on 01509 233433.
Established in 1991 and based in the East Midlands, Mather Jamie Chartered Surveyors is an independent mixed commercial and agricultural practice with a long established and unrivalled reputation for delivering reliable advice and expertise on residential and commercial developments. For more information please telephone 01509 233433 or visit www.matherjamie.co.uk.