Family accounting firm set to expand after move into new office
16/01/2017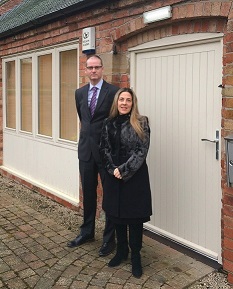 Farrars Chartered Accountants and Tax Consultants, a husband and wife team, moved into one of the high quality barn conversions at Cedars Office Park, in Normanton-On-Soar, this weekend, following a swift deal facilitated by Loughborough chartered surveyors, Mather Jamie.
Cedars Office Park is part of the Paget Estate and benefits from a number of eco features, including photovoltaic panels, underground clean air ventilation with heat recovery and underfloor heating powered by a woodchip biomass boiler, with woodchip sourced from woodlands on the Paget Estate.
Tim and Kathryn Farrar (Pictured) snapped up the lease on Unit 1 at Cedars, a high quality barn conversion in an idyllic countryside setting, with ample parking, excellent transport links and environmentally friendly devices to help reduce running costs. The firm, which represents individuals and limited companies in the Leicestershire area, is looking to take on additional employees and expand its client base in 2017.
Tim Farrar, joint owner of Farrars, said; "This is a great opportunity for our business and we believe this is an ideal office for us, being close to our client base, and offering plenty of parking for staff and visiting clients."
Ella Darby, Assistant Land Agent for Mather Jamie, said; "Cedars Office Park is a perfect location for small businesses, benefiting from attractive rural surroundings, modern facilities and great road links to Leicester, Nottingham and Derby. We're very happy that Farrars found this to be their ideal first commercial office, and would encourage businesses looking for similar offices to contact us."
For details of commercial property and land opportunities in the East Midlands, please call Mather Jamie on 01509 233433.
Established in 1991 and based in the East Midlands, Mather Jamie Chartered Surveyors is an independent development, commercial and rural surveying business with a long established and unrivalled reputation for delivering professional, reliable advice and expertise on major residential and commercial development schemes. For more information please telephone 01509 233433 or visit www.matherjamie.co.uk.