Equine Centre takes the reins at Stenson barn conversion
02/04/2019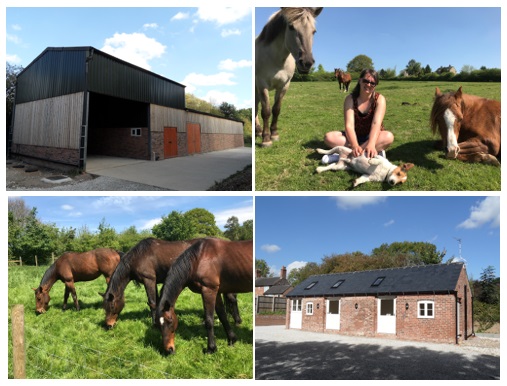 A recently renovated stable block transformed into modern offices in the village of Stenson, Derbyshire has now been leased by owners The Harpur Crewe LLC to Spirit & Soul Equine Assisted Activity Centre, following a lease agreement swiftly arranged through East Midlands property experts Mather Jamie.
Spirit & Soul has taken on a 10-year lease for Canal Side Farm Office as well as the neighbouring stables and land, all of which form part of the historic Harpur Crewe Estate. Formerly based in Kirk Langley, Spirit & Soul specialises in providing equine-assisted therapeutic services for individuals, businesses, families and local groups with complex needs who are overcoming difficulties such as trauma, cancer, stress and anxiety. The aim is to improve clients' mental health and overall wellbeing, as well as to encourage personal development and team-building.
Sarah Stephens, Managing Director and Lead Facilitator at Spirit & Soul, said: "Between viewing the premises early this year and taking the lease on 1st March, Amy and the team at Mather Jamie have been absolutely fantastic and have bent over backwards to help us with everything, including securing the lease very quickly. We're delighted with our new location and business has been very busy since moving here. The land has lots of potential for expansion, which is ideal as we hope to grow in the coming years."
Amy Biddell, Associate Director at Mather Jamie, said: "The Estate owners were keen to diversify their mainly residential property portfolio and the conversion of the former stable building at Canal Side Farm into a modern office space has enabled us to achieve this.
"The lease of the office and adjacent land and buildings has successfully combined the different aspects of the site, creating a modern, commercial and appealing centre for Spirit & Soul to operate their equine-assisted therapeutic services, which are sure to continue benefitting a range of people."
David Johnson, General Manager at The Harpur Crewe LLC, said: "This property had been poorly utilised for many years and we are very pleased with the transformation that has taken place on this site. The transition from a small working farm to a service-providing facility helps to diversify our portfolio of properties, whilst complementing our other long-term property investments across the greater Derby area.
"The property managers at Mather Jamie continue to work tirelessly at helping us to achieve our goals. We are happy to have this property now being put to good use as a readily accessible, quiet space for Spirit & Soul's work."
Spirit & Soul is located in the south of Stenson near the banks of the Trent & Mersey canal. The village is just five miles from Derby, with excellent access to the city's southern bypass. For more information, please visit https://www.spiritandsouleaac.co.uk/.
* Top Image - Sarah Stephens, Managing Director and Lead Facilitator at Spirit & Soul EAAC.