Denhams Jewellers to keep name as new 10-year lease agreed
13/06/2016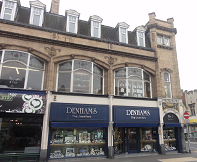 Denhams, based in the centre of Loughborough in a distinctively ornate building, was bought by Midlands jewellers Francis and Gaye last year. The original name was to remain temporarily, but after a successful first year, the directors of Francis and Gaye decided to keep it.
"Denhams is a something of a local institution, which was one of the reasons we wanted to take it on in the first place," explained Roger Francis, Managing Director of Francis and Gaye. "This first year of running the business has impressed upon us just how valued the name Denhams is to local customers, and we want to keep that heritage alive."
The new 10-year lease on the property, which is on the corner of High Street and the newly redeveloped area of Baxter Gate, has been signed by Francis and Gaye, which also owns and runs jewellery stores in Leicester and Coventry.
Commercial Management Surveyor James Hunt, who facilitated the lease said, "Denhams' jewellers is one of the most established and renowned businesses in Loughborough, and it was a pleasure to arrange this new long term lease, which shows that the retail market is strengthening in the town.

"We have plenty of similar potential retail properties on our books for people looking to set up or expand their own business here."
For details of similar commercial property opportunities in Leicestershire, and elsewhere in the East Midlands, please contact James Hunt on 01509 233433.
Established in 1991 and based in the East Midlands, Mather Jamie Chartered Surveyors is an independent mixed commercial and agricultural practice with a long established and unrivalled reputation for delivering reliable advice and expertise on residential and commercial developments. For more information please telephone 01509 233433 or visit www.matherjamie.co.uk.