Construction manufacturer becomes new tenant at Shepshed Warehouse
14/05/2015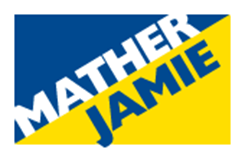 The unit has been created within a 65,000 sq ft warehouse formerly occupied by Illuma Lighting, after Mather Jamie advised owners of building, Malcolm Walker Developments, to transform it into four self-contained units. The substantial unit features high quality, fully refurbished offices, industrial warehouse space, a self-contained yard and onsite parking.
Alex Reid, of Mather Jamie, comments: "The high standard of the accommodation at Illuma House, which has undergone refurbishment, and the fact it lies just one mile from the M1 has made these units an attractive base for a wide range of businesses wanting quality industrial space. "We advised Malcolm Walker Developments to undertake a division of the building into four distinct quality warehouse premises, ranging between 10,000 sq ft and 28,000 sq ft.
"We couldn't have found a tenant for the warehouse at its original size, so creating four new units means we are delivering the size and quality of premises that businesses are looking for. "We are delighted to have secured a long-lease tenant for the unit on behalf of our client and are pleased to hear that Gastite's move will also allow them to create local jobs." Andy Carpenter, of Gastite, comments: "The driving force behind the move has been the expansion of the business over the last 12 months.
"Alongside needing more space, we were also keen to consolidate our existing operation, as our office and warehouse were previously in separate locations, so we needed to find the right premises in order to bring everything together. "This unit ticked all of our boxes due to the size and shape of the warehouse, which offers the right space for our existing machinery, but also due to its location. "Here, we are also closer to the M1 and as the majority of our business is in London, this gives us excellent access to our clients. "As a result of the move we now have the space we need to expand our operation and will initially be creating four new jobs."
Malcolm Walker, of Malcolm Walker Developments, comments: "Illuma House had sat unoccupied for eight years before we took it on and while it has been a big project converting the warehouse, we are really pleased to see the building coming back into use. "It is also encouraging to see occupiers creating new jobs at Illuma House."
For more information on similar properties contact Alex Reid on 01509 233 433 or email alex.reid@matherjamie.co.uk. Established in 1991 and based in the East Midlands, Mather Jamie Chartered Surveyors is an independent mixed commercial and agricultural practice with a long established and unrivalled reputation for delivering reliable advice and expertise on residential and commercial developments.
For more information please telephone 01509 233433 or visit www.matherjamie.co.uk.