Company presents celebratory Scotch to Leicester Riders in their new home
09/02/2016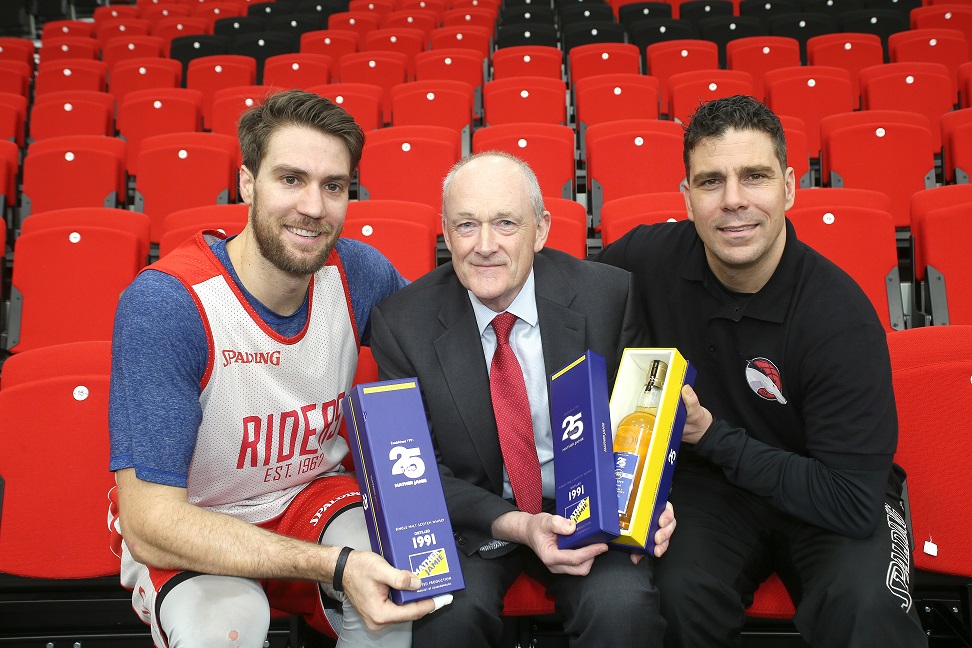 The team's Head Coach Rob Paternostro and one of their leading players Tyler Bernardini received the 25-year-old single malt Scotch whisky from Martin Ward, Director and co-founder of Mather Jamie, to mark both the basketball team's relocation to the newly opened Leicester Sports Arena and to commemorate Mather Jamie's 25 years in business.
Mather Jamie has sponsored the Leicester Riders since 2012 and is currently involved in a two year sponsorship with the basketball team, which has recently begun training and playing home games at the £4.8m Arena on Charter Street in Leicester.
Martin Ward, Director at Mather Jamie, said, "We're very proud to be associated with a successful local team such as the Leicester Riders, who do so much great work with local schools through their community program, the Riders Foundation, and it's great to see them settling into their new home at the impressive new Leicester Sports Arena.
"As a 'moving present' we wanted to present them with our own special, 25-year-old single malt whisky, which has been maturing now for as long as we've been doing business."
Rob Paternostro said, "This is a very thoughtful and generous gift from Mather Jamie, which we really appreciate, along with their continued support. I'd also like to congratulate them on their 25 years of success so far and wish them many more in the future."
Leicester Riders player Tyler Bernardini said; "I thank the Directors of Mather Jamie for this special gift celebrating their 25th anniversary – it is a delight to be connected with such a successful business."
Established in 1991 and based in the East Midlands, Mather Jamie Chartered Surveyors is an independent development, commercial and rural practice with a long established and unrivalled reputation for delivering reliable advice and expertise on residential and commercial developments. For more information please telephone 01509 233433 or visit www.matherjamie.co.uk.