Care home company and housing provider arrive at the point
04/04/2016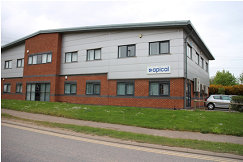 Rotherwood Group, which operates a series of nursing homes nationwide, and a local team from Nottingham Community Housing Association, which provides affordable rent homes to people across the East Midlands, have moved into The Point on Granite Way.
John Fennell, CEO of the Rotherwood Group, said; "We're an expanding nationwide business but we've maintained our headquarters in the Midlands as we're ideally placed to travel to our growing number of site, such as the recently opened St George's Park Nursing Home in Telford."
Sharon Singleton, Regional Housing Manager of Nottingham Community Housing Association, said; "These facilities are ideal and well located for our satellite office. It's a modern building that will give us plenty of space, plus the parking and local road links are excellent for us as we work across the East Midlands."
Benefitting gas central heating, double glazed windows, kitchen and WC facilities, plus on-site parking, within close proximity to Mountsorrel's local amenities and road links to the A6, The Point is a well situated, modern office building ideal for businesses looking to move or expand.
Alex Reid, Commercial Director of Mather Jamie, said, "The Point has great modern facilities and being located between Leicester & Loughborough with good road links to both via the A6 makes it ideal for a wide variety of occupiers". The first floor of Suite D, is 2,077 sq.ft, is immediately available to businesses seeking new or additional office space. We would urge those interested to get in touch with us as soon as possible."
For more information about the first floor office space at The Point, or for similar commercial property opportunities, please contact Alex Reid on 01509 233433.
Established in 1991 and based in the East Midlands, Mather Jamie Chartered Surveyors is an independent mixed commercial and agricultural practice with a long established and unrivalled reputation for delivering reliable advice and expertise on residential and commercial developments. For more information please telephone 01509 233433 or visit www.matherjamie.co.uk.
​