Young surveyor shortlisted for prestigious national award
29/09/2016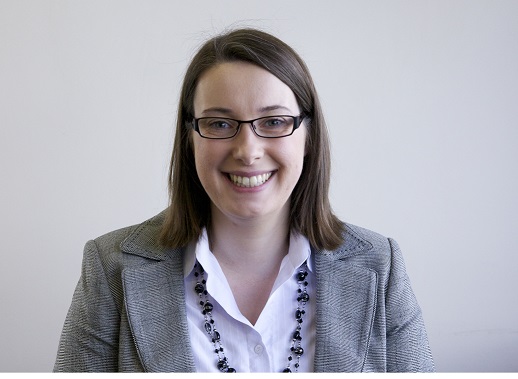 Amy Biddell, Associate Director of East Midlands Chartered Surveyors Mather Jamie, is in the running for the coveted Royal Institute of Chartered Surveyors (RICS) Matrics Young Surveyor of the Year 2016 Awards. She is one of just six rural chartered surveyors in the country to be shortlisted.
The Awards celebrate the most inspirational young surveying professionals in the UK, with the judges looking for individuals who can demonstrate excellence within their surveying roles, as well as those showing entrepreneurial flair or giving something back to the profession.
Up to 10 nominees are shortlisted in each of the 10 categories, with the winners put forward for the ultimate accolade of RICS Matrics Young Surveyor of the Year 2016.
Amy said; "I am absolutely delighted to have made it onto the shortlist for this year's awards. I thoroughly enjoy every aspect of my role as a Rural Chartered Surveyor and feel proud that my passion and determination has been recognised and may inspire more young people to enter the surveying profession."
Amy joined Mather Jamie in 2010 and was recently appointed an Associate Director of the firm. She currently manages a diverse range of rural estates and acts on behalf of clients on a range of projects and land deals. As well as being one of Mather Jamie's principal rural valuers, she is also the designated APC trainer, assisting the firm's future generation of young surveyors in their studies.
Martin Ward, Director of Mather Jamie and Amy's mentor over the last six years, said; "Since joining the firm Amy has shown drive and determination to qualify as a rural practice chartered surveyor and provide a first class, professional service to our clients. The Directors and staff of Mather Jamie congratulate her on being selected for the shortlist - quite an achievement as one of only six from the whole of the UK."
The overall category winners and ultimate Young Surveyor of the Year 2016 will be selected by the judging panel in early October with the results announced at an Awards Dinner in London on 18th November 2016.
Established in 1991 and based in the East Midlands, Mather Jamie Chartered Surveyors is an independent development, commercial and rural surveying business with a long established and unrivalled reputation for delivering professional, reliable advice and expertise on major residential and commercial development schemes.
For more information please telephone 01509 233433 or visitwww.matherjamie.co.uk.