Local recruit joins commercial team at Mather Jamie
28/05/2015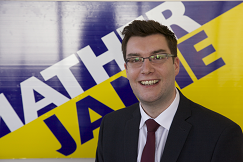 James Hunt, 27, has joined the Loughborough-based agent in the role of Commercial Management Surveyor, as demand for the firm's services continues to increase.
James, who qualified as a chartered surveyor in October 2014, has joined Mather Jamies' commercial team to assist with valuations, lease renewals and inspections.
James, who was born, raised and continues to live in Quorn, said; "I've had around five years practical experience since graduating from Nottingham Trent University, and worked previously in a broadly similar property management role for the largest franchise motor dealer in the UK."
"I've lived in Charnwood practically all my life, and I was well aware of Mather Jamie's formidable local reputation, so when I heard there was an opportunity going there I knew I was going to give it my all.
"I'm very happy they've employed me because it is a well respected company locally, and its variety of clients and services appealed to me. As well as my experience, I think my local knowledge of Leicestershire stood me in good stead when applying."
Alex Reid, Director, comments: "James is an ideal addition to Mather Jamie and we are delighted to have him on board as part of our commercial team.
"James will assist us with delivering the professional service and outstanding advice we are renowned for, and which our clients should expect, at Mather Jamie."
Established in 1991 and based in the East Midlands, Mather Jamie Chartered Surveyors is an independent development, commercial and rural practice with a long established and unrivalled reputation for delivering reliable advice and expertise on residential and commercial developments. For more information please telephone 01509 233433 or visit www.matherjamie.co.uk.